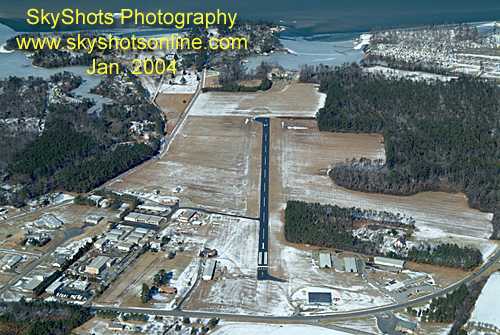 Photo by Sky Shots - http://www.skyshotsonline.com/
Copyright 2004, Sky Shots, All Rights Reserved
Do you have an aerial photo of this airport?
Airport Details
Elevation:
30 feet
Latitude:
37ø36'00"N
Longitude:
76ø26'59"W
Nearest City:
Saluda
County:
Middlesex
Sectional Chart:
Washington

Navaids, Frequencies, etc.:
AirNav W75

Notes:

Left Hand

Diagram from the 1998 Virginia Directory

1
Accomodations, Hotels, etc.
Pilot House Inn

Adjacent to airport.
P.O. Box 55
Topping, Virginia 23169
(804) 758-2262

Saluda Auto Sales (Auto Rental)

(804) 758-4824
Airport Organization
Hummel Field Airport

(804) 758-0538
Attractions
Chesapeake Bay

Fishing

Golfing

Historic Christ Church

Innovative Restorations

(804) 758-2753

Locklies Marine, Inc.

(804) 758-2871

Sailing and other water sports

Virginia's official Oyster Festival

Held during the first week of November in Urbanna, just a few miles up-river from the airport.

Waterfowl Show

This show features beautiful paintings and carvings. It is held in March of each year in Whitestone, just accross the river.
Businesses
Air Wrench Co.

(804) 758-3558
Organizations
Airport Advisory Committee
Restaurants
Eckhard's

Accross from airport. German and other fine foods.
P.O. Box 171
Topping, Virginia 23169
(804) 758-4060
---
Enhance your exposure on Virginia Aviation Online

Unless otherwise specified, all text, html, sql and photographs are Copyright 1994-2008, John S. Huggins.
No part of this site shall be reproduced without the express written permission of the author.
Questions, comments and corrections are VERY welcome! Send them to the webmaster at: john@flyvirginia.com.