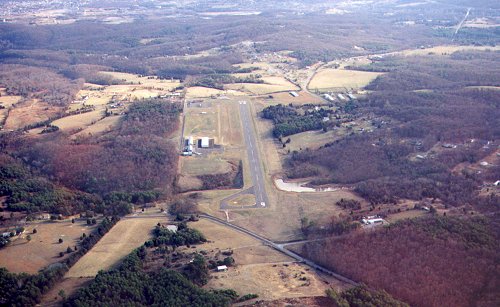 Photo by Jim Kellett
Copyright 2001, Jim Kellett, All Rights Reserved
Do you have an aerial photo of this airport?
Airport Details
Elevation:
709 feet
Latitude:
38ø55'02"N
Longitude:
78ø15'13"W
Nearest City:
Front Royal
County:
Warren
Sectional Chart:
Cincinnati/Wash

Navaids, Frequencies, etc.:
AirNav FRR

Notes:

Left Hand. Frequent glider operations, gliders use right hand pattern.

Diagram from the 1998 Virginia Directory

1
Accomodations, Hotels, etc.
Chester House Inn

Guest House

(540) 635-1411

Killahevlin Bed & Breakfast

(800) 847-6132

Woodward House

(540) 635-7010
Attractions
Belle Boyd Cottage

Bing Crosby Stadium

Shenandoah National Park

Skyline Caverns

Skyline Drive

Warren Rifles Confederate Museum
Businesses
Blue Ridge Helicopter

CassAviation

(540) 635-3570

Skyline Soaring
Organizations
Chamber of Commerce, Front Royal and Warren County

(800) 338-2576

Civil Air Patrol, Front Royal Cadet Sq.

Meets at Front Royal Airport on Thursdays at 1900.
(540) 869-5662
Restaurants
Dean's Steak House

(540) 635-1780

Grapevine

(540) 635-6615

Stadt Kaffee

(540) 635-8300
---
Enhance your exposure on Virginia Aviation Online

Unless otherwise specified, all text, html, sql and photographs are Copyright 1994-2008, John S. Huggins.
No part of this site shall be reproduced without the express written permission of the author.
Questions, comments and corrections are VERY welcome! Send them to the webmaster at: john@flyvirginia.com.