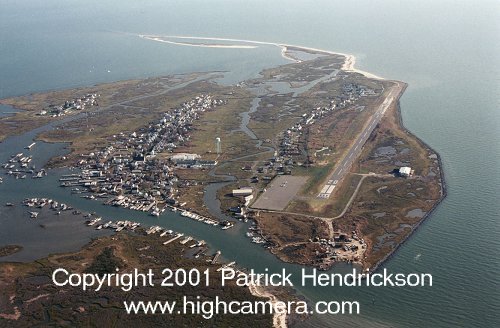 Photo by Patrick J. Hendrickson - http://www.highcamera.com/
Copyright 2001, Patrick J. Hendrickson, All Rights Reserved
Do you have an aerial photo of this airport?

Airport Details
Elevation:
7 feet
Latitude:
37ø49'31"N
Longitude:
75ø59'52"W
Nearest City:
Tangier
County:
Accomack
Sectional Chart:
Washington

Navaids, Frequencies, etc.:
AirNav TGI

Notes:

Runway 2 Right Hand
Runway 20 Left Hand

Diagram from the 1998 Virginia Directory

1
Accomodations, Hotels, etc.
Bay View Inn

Shirley's Bay View Inn

(757) 891 2396

Sunset Inn

(757) 891-2535
Attractions
All about Blue Crabs

A must read if you are interested in the Chesapeake Bay. Blue crabs taste good.

Tangier Island
Commentary
About Tangier Island
Restaurants
Hilda Crockett's Famous Chesapeake House

(757) 891-2331
---
Enhance your exposure on Virginia Aviation Online

Unless otherwise specified, all text, html, sql and photographs are Copyright 1994-2008, John S. Huggins.
No part of this site shall be reproduced without the express written permission of the author.
Questions, comments and corrections are VERY welcome! Send them to the webmaster at: john@flyvirginia.com.